Wall Travelling Crane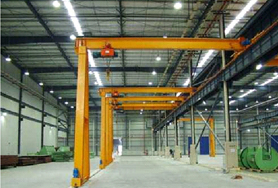 Single girder wall travelling crane is designed for operation on a lower level beneath a large travelling crane system.

These cranes provide additional handling possibilities and ensure smooth and trouble-free material handling between different working areas. A wall travelling crane installed at right angles across the hall can serve several workstations. Single girder wall travelling cranes are available for load capacities up to 5MT with outreach up to 10m.

Wall travelling cranes ensure effortless handling of loads and can feed multiple work stations. It is possible to mount several cranes on the same rail.